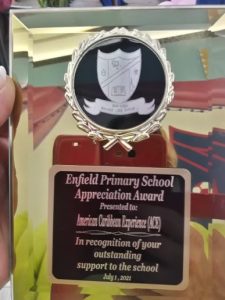 It's mid-summer, and while that may not seem like Spring to you, we have felt the subtle changes that normally come with the new growth the season of Spring offers.  You've heard of Christmas in July? Well, we had Spring in Summer!
Spring is normally the time for graduation. Instead, Covid pushed things a little. This month, ACE was invited to attend one of the primary school's 6th grade graduations. We had helped provide funds to build a stage inside their general assembly room where graduation was held.
Marla arrived in time to witness the Enfield Primary's Class of 2020 walking in their caps and gowns into the hall to receive their diplomas. As each student, all 23 of them, walked into the hall, they had a spring in their step that let everyone know this wasn't the end; it was just the beginning for them, moving into the next season of their education and life.
The Big Finish event for VBS was taking our students on a hike to the historic Ruins on our property where they got to see "old digs" and how ACE was revitalizing the old into the new. Students loved it! We even had a farm moment where the children got to love on horses, donkeys and cows, and even a few puppies! Many of them had never seen such large animals before or experienced the signs of life on a farm!
This summer brought us all the renewed faith and hope of spring, having our volunteers back as our sponsored children experienced new adventures, and we look forward to the changes and new growth yet to come.
(Click image to scroll through gallery)