Curfews and mask mandates have ended! ACE is so happy to restore something we always did before the COVID years, and that is to hold a pool party for our sponsored students and staff families. Our friends and volunteers from the States took full advantage of the opportunity to bring smiles and laughter to our community families. It's these little things that bring back the normalcy in the lives of children and their parents. Why worry when you can swim!
On a personal note, last summer, a college student came down with a team and learned about our sponsorship program. After returning home, she sent an inquiry through our website and was matched up with a child on our sponsorship list. When Emily returned to Jamaica in March, she was able to meet with Neilo live and in person! They had a great afternoon of getting to know each other.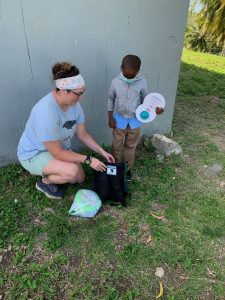 As Emily shared at her group's debrief at the end of the day, every month when she sent in her support for her student, she wondered if she would get to see her sponsored child as sometimes organizations can't always guarantee an in-person meeting.
ACE does. When Emily saw Neilo, instantly there was a great connection. She told her peers that it was her high for the trip to see how she's making a difference in someone else's life, seeing how she truly has impact. We think the Frisbee Emily brought Neilo might have been a winning factor as well, but there is no doubt that a new friendship has been made!
Never think one person can't make a difference! There are real smiles and real stories behind every donation, especially in our Child Sponsorship program. And there is no experience required to be a sponsor — just love! Thank you all for the awesome support you give ACE through your sponsorships. It does not go unnoticed and we are grateful.
(click to scroll through image gallery)