We were blessed to have Lynne, a former volunteer, come out to housesit at the Campus. She was a Godsend to us for being present and willing to help us in whatever ways He led her. Thank you, Lynne, for sharing your talents, your time, and your kindness. Here are a few of her thoughts from this experience:
I prayed for peace of mind and clarity for guidance on what to do in 2023 in my new role as a widow. I participated in a couple of medical mission trips to ACE in the past, so I receive the monthly newsletter. While reviewing the prayer requests, my interest increased after reading about the need for adults to housesit at the campus. The person or persons would need to take care of the house, the dogs and possibly do light gardening. When the same prayer request came again the following month, I responded. I accepted this wonderful challenge… and it turned out to be a blessing for me.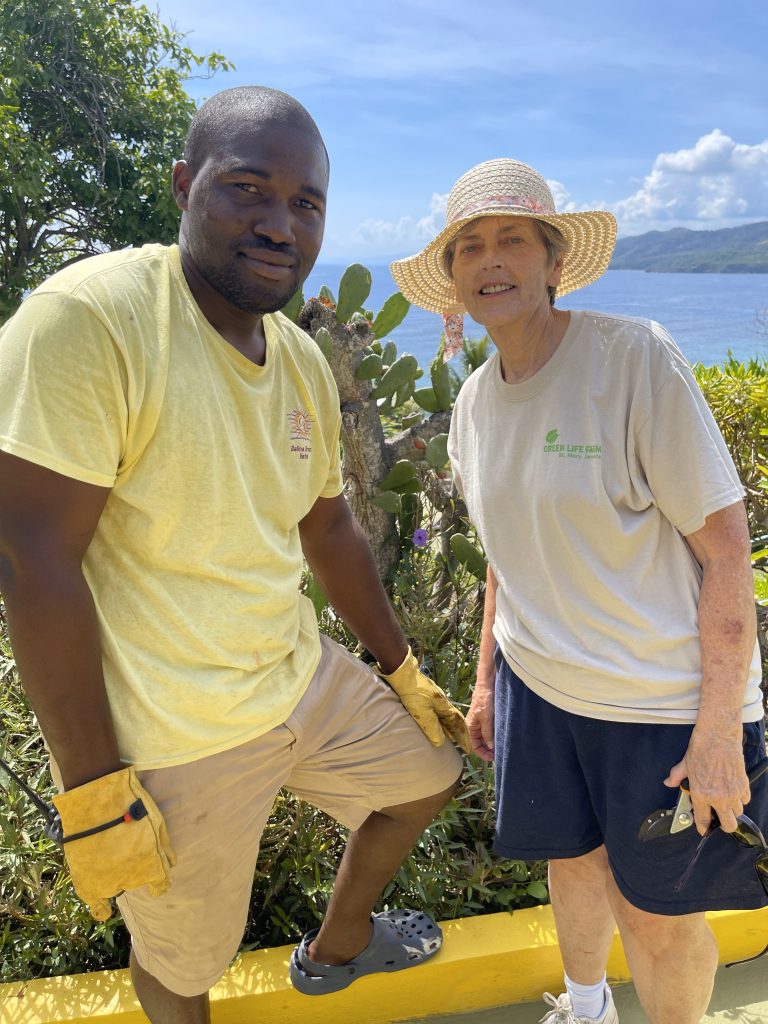 I arrived in the middle of a busy week, with a large mission trip of high schoolers and college students. It was wonderful listening to their stories of how they came to be here and what they wanted to do with their lives. Some had been here before.
House sitting at the campus house is very similar to taking care of your own home. Dusting, cleaning, finding things that need repaired or replaced. On the grounds of the campus house, there are trees and plants different from my part of the US. Almond, coconut, guava, ackee, bananas and plantains. The dogs are amazingly well behaved. They just want attention, companionship and of course food!
But I am not a sitter. I like to be busy, and I wanted to learn more about Jamaican life. I met with and worked with the ACE staff and some long-term volunteers. They do amazing work. God is working through all of them in everything they do. I helped with folding donated clothing and participated with staff on home visits to sponsored children. These visits are heartbreaking to see their surroundings but also joyful witnessing their thankfulness and prayer.
Easter brought on added activities. A community meal for families on Good Friday that included a viewing of The Passion and some games. On Easter Sunday, there was a festival for the community on the property. Lots of people came to have fun.
The surprise for me was how valuable my gardening skills were for my trip. Several plants needed pruning and sprucing up, and many of us worked around the campus and Buccaneers cleaning up the gardens and grounds. Additionally, I was able to tutor a young girl.
There are also relaxing days going to the beach, going grocery shopping, and going to the various churches in the Port Maria and Ocho Rios.
Overall, this was a wonderful experience in all aspects, and I do hope to repeat it someday soon. If you're thinking of it all and you would like a challenge such as this, open your heart and look forward to an adventure – I dare you!
~Lynne